Recently I've somehow managed the enviable task of reading novels (I know, can you imagine?). Once upon a time in a
Michael Hyatt
post I read some common knowledge that isn't so common.
Schedule time in to read.
Now why didn't I think of that?
There are still a ton of books waiting for my attention but I am slowly working my way through them and enjoying it immensely. Rather than review them all, I'll give honourable mentions with a comment or two on what I thought of the read and whether or not it affected me in some profound and contagious way.
I hope you can find something here you like, too, or maybe a couple you've already read and think you need to comment as well. I'd love to know.
And
'Liv
, if you read this, my copy of
Lucy Banning
hasn't taken a while because they're still cutting down the trees for paper to print on... It's because the order was missed at the shop after I placed it. *sigh* Good things come to those who wait :) It's not long now...
Promise Me This
by Cathy Gohlke
I
really
enjoyed this book hugely and have recommended it. There is so much to be gleaned here and I'm aiming to leave a bigger review of this one shortly (when I schedule in the time :)... One thing I will say is that having read it after Tricia Goyer's By the Light of the Silvery Moon (reviewed in my last blog post), it made me feel like I was still on the Titanic, just on a different deck. This book needed at least another ten pages! :) As they say in racing, it was a very close photo finish.
Reclaiming Nick
by Susan May Warren
This book was given to me by a friend working aboard the
MV
Doulos
at the time. It was her most favourite and treasured book of all time and she'd already given away a copy. Her heart just about broke when she passed this one on to my mother for my good. Recently I gave a copy to a friend. Doesn't that say it all? (am currently reading #2
Taming Rafe
, and #3
Finding Stephanie
will be right behind).
Not in The Heart
by
Chris Fabry
This is the first of Chris Fabry's books I've read and it sent me on a search for
more
! This is not the kind of book I'd usually go for, but the premise was much too intriguing. I've recommended this one also, and the ending packs an unexpected punch (which is to be expected for him, apparently). That's it. I'm hooked...
Blue Moon Promise
by Colleen Coble
Needless to say, I bought this one for the dress :) It's been a while since I read one of Colleen's books and it was an enjoyable overdue jaunt through Texas (I've not been ranching for a while). These kinds of historicals where the guy marries the girl by default or proxy always makes me wonder what it would've been like to live in those pioneer days. Times were tough!
The Atonement Child
by Francine Rivers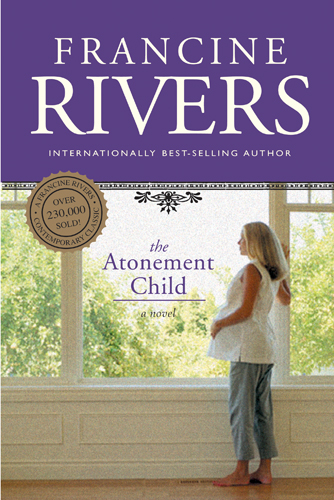 This book was a tough one and as with many of Francine's books, is not for everyone. I did like it and definitely agree with the pro-life side of things. I bought it after a friend read it and I had also recently read the Mark of the Lion series. Am now all dosed up on Francine for a while, but have Sons of Encouragement and Lineage of Grace waiting for me at the right time...
Q:
What's your latest read? What did you think of it?
"I am not ashamed of the gospel, because it is the power of God for the salvation of everyone who believes: first for the Jew, then for the Gentile."
Romans 1:16
"[Le résumé de l'Evangile] Car je suis fier de l'Evangile: c'est la puissance de Dieu par laquelle il *sauve tous ceux qui croient, les *Juifs d'abord et aussi les non-Juifs."